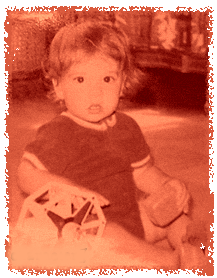 Baby Jeremy

Photo courtesy of: Belinda Jacobs, Jeremy's Mother.
Name : Jeremy Issac Jacobs
Born : July 7, 1975
Place : Portland, Oregon/Cedar Sinai Medical Center
Siblings : None
Parents : Divorced
Favorite Food: Green Beans
Favorite Sport: Walking
Favorite Musician: Unknown



He was born with vision . . .
Jeremy was born in the suburbs of Portland, Oregon in 1975 to his parents Belinda and Abe Jacobs. Jeremy was named for the biblical Jeremiah.
Jeremy's father had an affinity for a certain verse in the book of Jeremiah. The story goes that one night, Jeremy's father, Abe, was fornicating in a motel with some girl he'd just met. After a brief interlude of wild, gymnastic-like sex, she excused herself to the toilet area, and he perused the ever-present Gideon's Bible he found in the nightstand. He casually opened the book and read the first verse he saw.
The verse he read, Jeremiah 1:9, was awe inspiring to Abe. He later noted that as he read he felt the walls shake and the air churn. He swore then that he would name his first born son Jeremiah, after the prophet. He didn't know then that his first child had just been conceived.
There are a multitude of reports about Jeremy's early childhood. After his story broke, people crawled out from under the dustiest of mats to share their wild tales about the enigmatic Jeremy. His family, too, had stories to tell. For instance, his grandmother said that once while baby sitting him (he was 2 years at the time) he began to get fussy. She tried to assuage him with toys and a bottle, but the young Jeremy wouldn't have it. Crammed in his highchair, squatting peas with his fists, Jeremy went into a trance and chanted deep, vibrating, mantra like noises. This continued relentlessly for 15 minutes until, after exhausting every option, Grandma turned off The Wheel of Fortune on the TV. Then, as quickly as he started, he stopped his tirade, acting as if nothing had happened. Jeremy's grandmother said it was frightening, so much so, that she never told his mother until years later.
And then there's the story of 4-year-old Jeremy who saved his family from a doomed airliner. They had planned a trip to Disney World, but Jeremy refused to set foot on the plane. While walking down the tarmac he became hysterical and escaped from his mother's hand. "His strength was incredible," says Belinda Jacobs. Nothing they did could calm the boy or convince him to go on the plane. Finally they gave in to him hoping he would fall asleep and they could take the next flight. Soon after, the plane burst into flames while taking off. They were horrified and canceled their vacation. They never told Jeremy about that accident. At age 8 he predicted the assignation attempt on President Ronald Reagan. As Mrs. Jacobs recalls he casually told his mother at breakfast that the President was going to get shot. He did later that afternoon.
There was the time when he rescued a boy not much younger than he from drowning in a park pond. Nobody knows how he rescued the toddler as the two of them were found after the toddler's mother realized her child was missing. Jeremy apparently saved the boy since he was unconscious, but breathing, as the two, both drenched, sat by the pond's shore.
Jeremy was always quiet and never much one for attracting excitement which is why each time a mysterious event took place Mrs. Jacobs didn't cause a fuss. "Jeremy seemed unfazed by his heroic nature. I wanted him to fell normal. We didn't make much of it," she says.
Growing up, Jeremy had a limited amount of friends. He wasn't the gregarious type. He played many imaginative games and shared stories of wild adventures and secret labyrinths with his mother. Jeremy's father divorced his mother while Jeremy was still young and his absence affected Jeremy quite a bit. Jeremy's early adolescence was rocked with extreme irritability. He suffered with violent dreams and often reported visions. It wasn't soon after that he turned to alcohol to assuage his discomfort. This period was tumultuous at best as Jeremy grew into more of a recluse. His early childhood heroics had all but disappeared. They were replaced with compulsive discontentment and strife. He managed to get by in school earning B's and C's. He never once studied.
During High School Jeremy was introverted, feared, and misunderstood. Some called him eccentric others, a freak. Still, though, he was admired by most who knew of him. He read many books and studied various subjects including Theology and Philosophy. He excelled in music. His band teacher is noted as saying that he was a prodigy unlike any he'd ever seen. "He'd just come in, pick up any random instrument and come up with the most brilliant melodies. I tried hard to help him harness his skill but he wasn't interested."
It's true. During High School Jeremy was approached by many well-meaning mentor-types who tried desperately to reach him, support him, and help him to use his genius. He was adamantly against these people and often became violent with them. He was an artist, as well. One series he created his senior year, Blue Concern(oil on canvas) gained quite a bit of fanfare when, without Jeremy's permission, an art rep who convinced Jeremy to loan her his work, offered them to a gallery in Seattle. Their instant success was stunning with accolades and praises from both the west and the east coast. Perhaps even more peculiar was the fire that destroyed them all just two weeks later. Although the fire marshal declared the blaze an accident, Jeremy never commented on the rumors of arson, and he never painted again. Many "Grunge" musicians of that time often say that the Blue Concernseries was a major inspiration in their work. Rumor has it that Eddie Vedor, of Pearl Jam actually wrote the hit Jeremy with Jeremy Jacobs in mind.
Surprisingly, Jeremy did attend college, although his motivation was as he put it "observational purposes." Not much is known about this period since he kept quiet and allusive. The novel tells the facts that are known. Most people who knew Jeremy at this time feared the worst for him. He never smiled often looked tormented and rarely communicated, which is why his suicide attempt wasn't a complete shock. What was shocking, however, is what happened afterward. What was shocking is how Jeremy became anew.